I went to high school with Nan Gurley where I was in the chorus with her for two years. Nan was the lead in our annual usical production every year, so it has been my pleasure to watch her career almost from the beginning! The Glory Bugles is one of my most favorite things that she has don't through the years.
The Glory Bugles return to TPAC with '800 Miles Off Broadway'
For reasons unknown, the Tennessee Performing Arts Center has just announced they have invited the musically-challenged, theologically baffled foursome known as The Glory Bugles back to the stage in September.
Keep reading at: The Glory Bugles return to TPAC with '800 Miles Off Broadway' - Nashville Gospel Music & Entertainment Examiner
Also see:
The Glory Bugles Bring '800 Miles Off Broadway' to TPAC
8/27/2011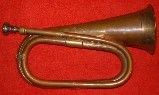 The Glory Bugles return to TPAC, which is approximately 800 miles off Broadway